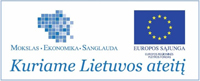 "Bageta" UAB – one of the leading manufacturers of wooden pallets and pallet collars in Lithuania, exporting more than 80 percent of its production to the markets of EU countries and Norway, has successfully implemented the project "Development of Export Markets of "Bageta" UAB and Increasing Its Recognition Internationally", project No. VP2-2.1–ŪM–04–K–04-238. The project was implemented under the 4th call of the measure "New Opportunities", which is co-financed by the European Regional Development Fund.
The total amount of the grant – EUR 36938. During the implementation of the project the company successfully participated in six international exhibitions for the packaging/logistics sector in Belgium, the Netherlands, France, Spain and Sweden..
The goal of this project – to increase the popularity of the production internationally and to establish productive relations with new foreign partners and clients – was achieved. The increased volume of export will create the conditions for technological development, production of high-quality products as well as allow to retain and create new jobs.