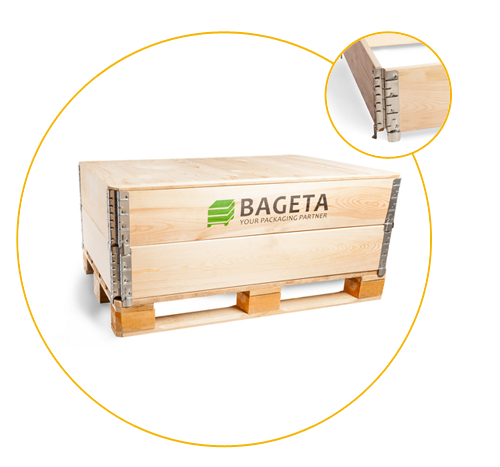 Pallet collars
Used together with pallets, pallet collars offer a practical and cost-effective reusable packaging for companies that store and transport various products.
Bageta uses high-grade softwood (hardwood, at the customer's request) to manufacture pallet collars; therefore, the products are long-lasting, durable and of functional design. Due to these characteristics, the collars are easy to store: they can be folded in a compact manner, thereby saving the warehouse space.
We able to produce second grade (II-grade) with all specification and requirements as well as two board pallet collars, which are very durable and practical design.
In line with the international standard ISPM 15, the pallet collars are manufactured using thermally treated wood.
The company manufactures up to 1.8 million collars per year; therefore, we can execute orders of any volume.
Dimensions of the collars
Our pallet collars can range from 400 to 3,500 m in length or width. We also manufacture customized collars for customers with products of non-standard sizes.
Six-hinged collars
Six-hinged collars are best suited to save the warehouse space. Not only do they require small storage space, they are also easy to transport, because placing them on the pallet requires no extra effort.
Customization
The company offers customized collars to customers who wish to make their products stand out or easy to find in a warehouse. We can mark the collars with a logo of the company, mount painted hinges or paint the entire collar.
Volume and transportation
One pack of pallet collars (105 pieces) occupies about 3 cubic meters of the wareouse space and fits 20 cubic meters of products.